How to Choose the Digital Photo Printer
After clicking your snap shot, how do you turn the digital shot into real photo? Besides taking the memory card to the digital developing lab, you can also print the photo right at home and enjoy the fun of DIY photo printout! If you want to printout high quality photos at home, you should choose photo printers. There are various photo printers available in the market with different brands, and the quality also varied with different printing technologies. There are a lot of helpful tips here for you to choose the right printer.
The followings are some important key points while selecting the photo printer:
1. Printing Method
Photo printer's printing method is the important factor affecting your printer selection. You should be careful when choosing the right photo printer, as wrong type of printer would not only diminish the outcome of the photo quality, but also waste of fortune. Most of the photo printer available can be grouped into two major printing methods: inkjet printing and thermal printing.
| | |
| --- | --- |
| Inkjet | |
| Inject printing is the most commonly used for photo printouts, due to it's convenience and popularity; however, the quality of the printout has also been it's drawback, even for the most advanced technology, as the printing ink dot and color block can clearly be seem (due to half-tone color printing). For a desired higher photo quality, printer with at least six-colors-cartridges technology is required. Accordingly, the ink cartridge and paper are relatively more expensive, and the printing time is also longer (the higher the printing resolution, the slower the printing time). The most critical disadvantage is that most inkjet printing does not provide waterproof over-coating which reduces the photo storage time as the color would fade away with paper yellowish and image vagueness in less than a month. | |
| | |
| --- | --- |
| Thermal | |
| The dye diffusion thermal transfer (D2T2) printing method, used by Hi-Touch Imaging Technologies, uses thermal print head to heat the ribbon panels that are coated with dyes in yellow, magenta, cyan, and overcoat (YMCO). The heat process diffuses the dye into a thin receiving layer on top of the photo paper in a continuous tone printing with 256 levels per color or total of 16.7 million true colors. The colors are bright, vivid and natural that brings the photo into a higher level of quality. The special over coating for thermal printing has a protective layer that help to reserve the photo with resistance from water, UV, and finger prints. Overall, D2T2 is a more preferred technology for photo printout, as it's printout quality, convenience and cost all out-perform other printing method. | |
2. Resolution
| | |
| --- | --- |
| Inkjet: | Printing resolution at least 4800x1200 dpi. : The higher the printing dot per inch the better it is; however, the inkjet printing technology used by each manufacturer varies significantly. |
| | |
| --- | --- |
| Thermal: | As compare to inkjet resolution, D2T2 uses "Resolution" to represent it's printing resolution. In general, 300 dpi of D2T2 equals to 4800x4800 dpi, and 400 dpi of D2T2 equals to 6400x6400 dpi. |
3. Speed
It's also very important to consider the printing speed while selecting the photo printer, as you would like to show the photos to your friends, and share the memories together. The fastest model from Hi-Touch Technologies is only 45 seconds, and the slowest model is only 100 seconds. Even though the inkjet printer can print up to 10 pages of test documents per minute, it may take up to 10 minutes to print a 4"x6" photo.
4. Quality and Color
Photo preservation time should be also put into consideration. The photo printed from Hi-Touch D2T2 printers with the over-coating layer can help to keep the photo up to 50 years without yellowish color and finger prints, as well as moisture resistance. Most inkjet photos do not have the protective layer; therefore, it would be difficult to keep the photo for a long time under high humidity geographic area. The quality of the inkjet photo oftentimes will diminish in a month time.In term of color quality, the continuous tone printing technology, used by Hi-Touch, prints out the true colors which match to the photo image colors, representing high quality continuous color in a very tiny small dot. For example, in "gray" tone from black to white, D2T2 can prints a full continuous tone of gray colors. For half-tone printing used in inkjet, Dithering technique is used to simulate the colors by assembling the printing dots that trick the human naked eyes to perceive the color dots as desired image color. The inkjet image quality is much worse than the D2T2 image quality; especially when magnifying the image, the difference can be clearly seen.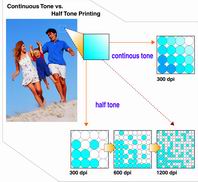 5. Convenience
For most digital camera users, the best way for photo output is direct printing from memory cards, which eliminates the process of connecting to PC. For those elderly who are not familiar with the PC, direct printing from memory cards would make it easier for them. Currently, Hi-Touch offers three stand-alone models with direct printing function: 630PS, 640PS, Transphotable.If it's fine for you to print the photo through PC while enjoy the fun of image editing and save budget, PC mode photo printer would be more economical. Hi-Touch also offers two photo printers with PC connecting mode: 630PL and PhotoShuttle.
6. Consumables
Most inkjet photo printers carry six or seven colors cartridge, which is more than normal three or four colors cartridge carried by normal inkjet printers. More colors in cartridge enhances the color levels and color balance that makes the photo more saturated with better shadow and skin color printout than normal inkjet. For better quality of photo printout, special photo papers much be used; however, increasing the paper cost accordingly. The total printing cost for a special photo paper with ink is around US$0.75 ($0.50 for paper and $0.25 for ink). The total printing cost for Hi-Touch photo printer is only US$0.40 (including paper and ribbon), while the average printing cost for most the Japanese D2T2 photo printers is around $0.60 to $0.90.

7. Applications
The fun of buying a photo printer is to print your own photos and DIY at home to make different kinds of photos. When choosing a photo printer, it is suggested to take a look if photo-editing function is included.HiTi photo printers can easily satisfy your need for various photo printout formats. With PhotoDesiree, you can print 1" and 2" ID photos, ID badge, business cards, fun stickers, calendars, greeting cards and etc. in a more practical, instant, and enjoyable way. HiTi photo printers enrich your life in this digital world, and make yourself a mini-lab right at home to make whatever photos you desire.